Advertising Opportunities
Advertise at McFetridge Sports Center
Located within California Park (3843 N California Ave):
MSC recently underwent a $5.4 million dollar renovation making it a state of the art, modern ice rink and upgrading the facility throughout. The MSC's growing popularity and high visibility to local patrons creates the perfect venue for increasing YOUR consumer sales and enhancing YOUR business image. Not to mention the following other benefits:
Access to over 150,000 customers annually
Reinforce interest in your community
Demonstrate your commitment to organized youth sports
Associate your business with a trend setting recreation facility
Target both youth and adult age groups
It's Affordable! Our rate structures will ensure a great return on your advertisement dollar
A place to showcase your business
Opportunities
Take advantage of this exciting advertising opportunity with any of the below options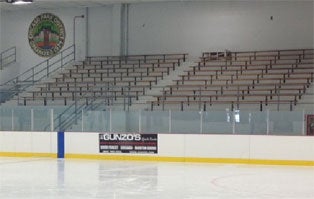 Dasher Boards: Board Size varies depending on Artwork with maximum height of 3ft.
Number Available = 72
Our most popular advertising medium is our dasherboard ads.This offer is one of the most effective ways to display your company logo and information to all ice users.
Dasher boards are the walls that surround the ice surface, which means that as fans watch the ice action, that also see your company's logo. Ads are attached to the inside of these boards and can be seen both on and off ice users and spectators, providing you the ultimate exposure.
Production and initial installation cost are additional (approximately $150/sign) as well as possible additional costs due to wear and tear.
$850 – 2 boards; 1 year from the time of installation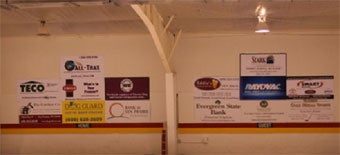 Banner Ads: Dimensions- 4' X 6' -or- 6'X8' -or- 8'X10'
Banner Ads will be hung on the walls surrounding the ice rink giving clear visibility of your company's logo and information. These banners can be seen by both on and off ice users and spectators, and fitness center patrons providing you the ultimate exposure you desire.
The banner is digitally printed on 13oz banner material. The edges are hemmed and grommetted according to the width and height of the finished banner.
Production and installation of banners are additional costs as well as designer fees if needed.
$350– 4'X 6' banner for 1 year from the time of installation
$500– 6' X 8' banner for 1 year from the time of installation
$1,000– 8' X 10' banner for 1 year from time of installation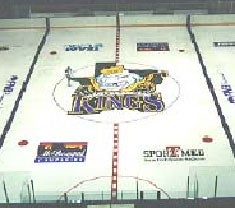 In-Ice Ads: Number Available: 1 Center and 4 Middle Corners
Have your company's logo permanently frozen into the Ice… a highly visible advertising spot that puts your company right in the center of the action!
Although, generally thought of as predominately more effective advertising for a televised game or skating tournament, we've made in-ice advertising affordable for a unique way for you to stand out and reach new customers.
In-Ice logo's would be installed in August.The pricing includes production and installation costs.
$10,000– Center Logo for 1 year from time of installation
$2,500– 1 Corner Logo for 1 year from time of installation
Olympia: 1 Available
Ice Re-Surfacer/ Zamboni Signage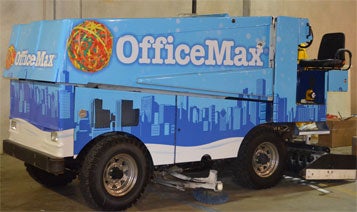 Ice Re-Surfacer/ Zamboni signage is an excellent medium to expose your business and its logo to our local community. The Zamboni is large, that means your logo is big . . . real big . . . Your logo will be seen moving across the ice by thousands weekly . . . sure to make a lasting impression. On average the ice gets cut 8-13 times a day!
This Sponsorship Opportunity is available to a company that will become the advertising trend-setter for McFetridge Sports Center's newly renovated and most exciting attraction.
$6,000– 1 year from time of installation
All above packages include:
Your company logo and website link on MSC's website
1 Ad slide to be included on electronic boards in lobby with your logo and details, photos, etc.
Distribution point in main lobby to promote your business with brochures and/or flyers